Even though it's not the most fun job, end-of-tenancy cleanup is essential. One of the biggest factors contributing to disagreements between residents and owners is property cleaning (or lack thereof). However, this can be prevented with a thorough end-of-tenancy cleaning.
What Is End of Tenancy Cleaning?
The extensive cleaning of a rental home when a resident vacates your property is known as end-of-tenancy cleaning. To guarantee that the property is in good condition, Five Star Property Management suggests cleaning all interior surfaces of the premises, including the floors, ceilings, carpets, walls, furniture and accessories.
Why is End of Tenancy Cleaning Important? 
After a resident moves out, the property needs to be returned as closely as possible to its original condition. Residents stand to lose a portion of their security deposit if the unit is not restored to its initial state, though normal wear and tear is an exception. 
Unexpected damages a resident might be liable for include changes to the property's outward appearance, unauthorized painting or misuse of appliances.
If the landlord inspects the unit and isn't happy with the state the property is left in, they can seek compensation by withholding a resident's security deposit. The matter of compensation can be settled in court if there's disagreement.
End of tenancy cleaning also keeps new residents happy, as the property is in great condition when they move in.
What Should I Include on My End of Tenancy Cleaning Checklist?
After a resident vacates the premises, it can take a lot of time to clean the space thoroughly. If you have the time, doing it yourself will save you costs associated with a cleaning service.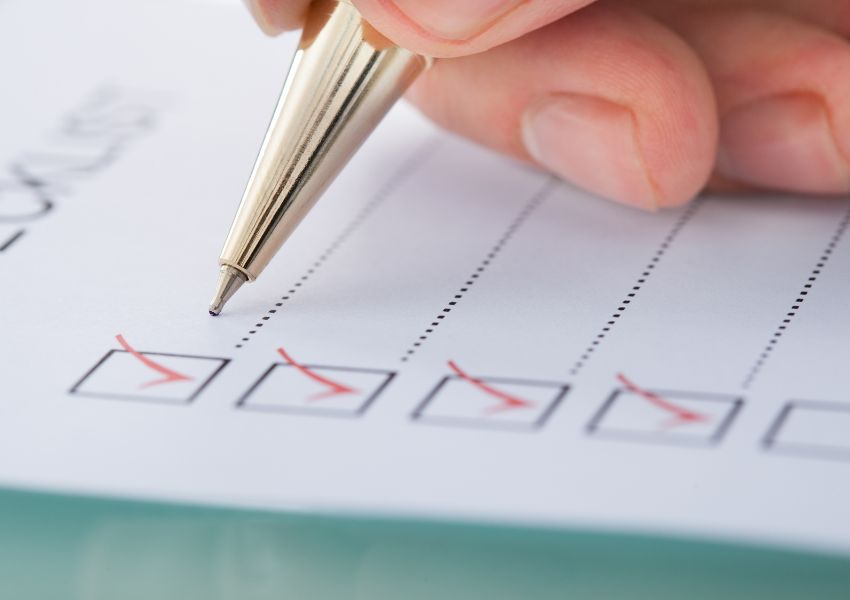 Both landlords and residents can use an end-of-tenancy cleaning checklist to make sure they've covered all their bases in maintaining the rental property and restoring it to its best possible condition.
To help you with end-of-tenancy cleaning, we suggest including these areas in your landlord checklist:
Doors, Windows, Walls and Ceilings.
While cleaning the walls, doors and ceilings, keep the following in mind:
Wall scuffs should be looked for and, if necessary, cleaned up or touched up with paint.

Electrical outlets and switches need to be polished and cleaned.

Cobwebs on the ceiling can be removed by using a long-handled broom to reach all the corners.

Door handles and door surfaces need to be cleaned, and the edges of doors and door frames need to be dusted.

Skirting boards need to be cleaned.

Mirrors and windows need to be spotless.

Window sills and frames need to be dusted and cleaned. 
Furnishings, Fixtures and Fittings.
New residents definitely don't want to run their fingers over the tops of wardrobes and discover an accumulation of dust or dirt. When cleaning your rental property, pay close attention to the furnishings, fixtures and fittings:
The aprons of closets, shelves and cabinets need to be dusted and thoroughly cleaned.

The edges of picture frames, mirrors and curtain rods need to be cleaned.

Lampposts, shades and light bulbs should be dusted.

Tables, workstations, sideboards and other surfaces should be dusted and polished.

Couch cushions and sofas should be steam cleaned.

Drawers and cabinets should be emptied and cleaned as necessary. 
Bathrooms.
It's crucial to deep clean the bathroom. If you're a landlord getting ready for new residents, a  pristine bathroom leaves a great impression.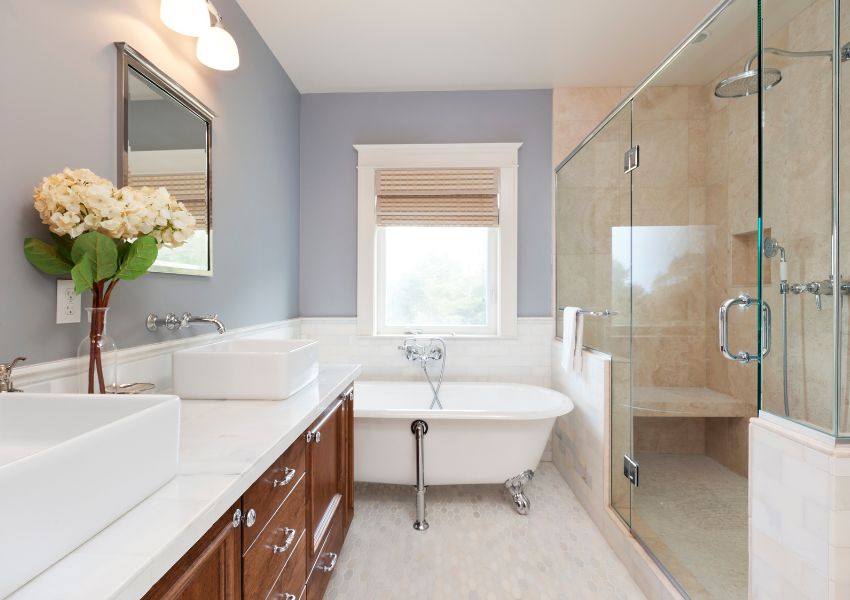 Focus on the following:
Wash and polish all faucets, fixtures and basins. A sparkling gloss can be achieved with lemon or vinegar.

Apply vinegar to the bathtub

, making sure to concentrate on any stains.

Use rubber gloves, disinfectant and a toilet brush to wash the toilet inside and out by soaking it with a cleanser from the rim down, waiting 10 minutes, and then scrubbing.

Use an old toothbrush and cleaning solution, scrub all bathroom tiles to get rid of any mold or dirt buildup.

Restore the shower head to great condition by scraping limescale accumulation. 

Wash any shower trays and doors.

Sanitize the shower rails or radiators.

Fans should also be thoroughly cleaned because they frequently collect dust.
Kitchens.
The most frequently used room of any home is probably the kitchen. It's crucial to clean every part of your home completely, especially the bathroom and kitchen spaces. 
Here is a helpful checklist when cleaning your property's kitchen:
Clean and grease-off the oven.

Clean all counters and work surfaces.

Remove any

limescale accumulation

from taps and other fixtures by thoroughly cleaning the kitchen sink. Be careful not to harm the stainless steel appliances.

Clean the refrigerator and freezer inside and out, paying special attention to the rubber grommet.

Clean, sanitize and empty trash cans and trash can locations.

Clean the filter and the extractor fan of any grease or dirt.

Make certain that every drawer and cabinet is closed and give them a thorough cleaning.

Use an old toothbrush to scrub the wall tiles and any soiled grout.

Wash the floor.

Clean the interior and outside of the microwave, as well as other kitchen appliances like toasters and kettles.

Make sure that any provided silverware, mugs, plates or other items are clean and stored in drawers.

Clean the interior and outside of any other appliances, including the washing machine, dishwasher and dryer. 
Carpets.
Carpets are one of the most noticeable features of any room in a property, and they're also one of the most used. Steam clean your carpets yourself or hire a specialist to ensure your carpets are clean. If you're using the machine yourself, prep the carpet first by vacuuming it for dirt.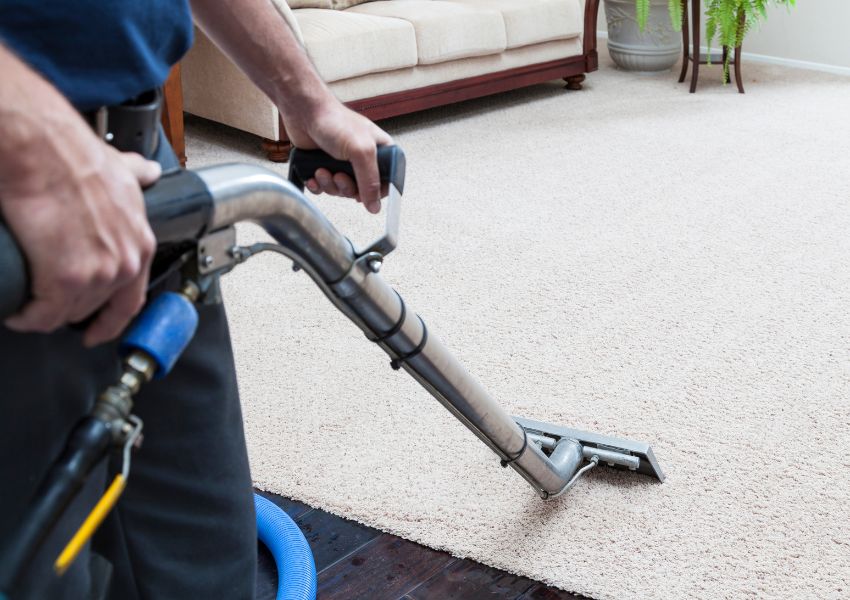 Stains and dullness can be eliminated with a thorough steam cleaning, but keep in mind the carpet will take a few hours to dry completely.
Outdoor Spaces.
Don't overlook the exterior of your rental property when doing an end of tenancy cleaning. Your property's exterior is the first impression on a potential resident, and responsible for your property's curb appeal.
Make sure there isn't any trash laying around, that the garbage cans are tidy and emptied, the yard is manicured and that the garden beds are culled. Clear any terraces or decking areas of foliage and other debris, and use a power washer to get rid of any mold or embedded dirt.
Bottom Line: Why End of Tenancy Cleaning Is Important
Once your property is in its best shape possible, it will be easier to find fantastic new residents and raise your rental rate. An end of tenancy cleaning checklist will help make sure you clean all interior rooms and exterior spaces down to the last detail.
If you don't have time to worry about the intricacies of end of tenancy cleaning or you need help with any other aspects of property management, consider partnering with Five Star Property Management.
We operate a full-service property management company and will ensure your property is well-maintained and resident concerns and requests are responded to immediately. Contact us today by writing us an email at contactus@rentfivestar.com, or by dialing (208) 234-4447.