Having a vacant unit defeats the fundamental purpose of being a landlord in the first place. Worse still, a vacancy is costly. Just because you don't have a resident doesn't mean expenses like property taxes and mortgage payments will stop coming. What's more, vacant rentals can be susceptible to numerous risks, like vandalism, unchecked water damage, and theft. 
Luckily, there is something you can do to lower your vacancies. And, that is by ensuring your property is appealing to prospective residents. The right rental renovations will ensure your property is comfortable, attractive, and functional to prospective residents resulting in less turnover. 
This blog post contains the 9 best renovations you can perform on your rental property. 
1. Renovate the Kitchen
You've probably heard it before – the kitchen is the heart of the home. As such, how it looks can make or break your efforts of attracting a new resident. Broadly speaking, quality residents will want to rent a home that has a functional kitchen. The following are questions a prospect will have at the back of their mind:
How are the appliances? Are they dated or are they new and energy-efficient?

 

What's the décor like? Is it contemporary yet neutral and minimalist or is it dated?

Is the kitchen clean with plenty of storage and counter space?

 
When making kitchen updates consider these questions to ensure that you're investing in upgrades that residents want and need.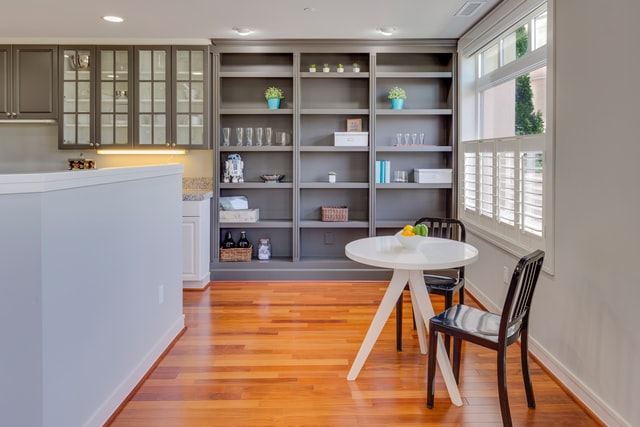 2. Update the Bathroom
The bathroom is also another room that you'll need to ensure is in tiptop condition before listing the property. Savvy prospective residents are always on the lookout for certain features in a bathroom. 
One such feature is enough storage space. Even in the biggest of bathrooms, there never seems to be quite enough storage for toiletries, towels, and cleaning products. So, if the home has a small bathroom, consider adding more storage options for your residents. You can do that by adding adhesive hooks, hanging basket shelves, and mounting a towel rack.
You can also refresh the space by giving a new coat of paint. This is a relatively easy project and is less costly than a full remodel. Just remember to use neutral colors as they'll appeal to a wider range of residents.
3. Repaint the Entire Home
As already mentioned, this is a relatively easy and inexpensive project. That said, if done well, it has the potential to significantly upgrade the look and feel of your rental property. Again, remember to choose neutral paint colors. That's because neutral colors appeal to more people's tasks, as they will have a blank canvas to work with. 
4. Install a New Floor
Many landlords opt for carpets. However, while they are easy on the pocket, carpets are high maintenance and are known to trap smells and dust. That's why hardwood floors are on the wish list of the majority of residents. They not only require less maintenance, but they also look better. 
So, if you have a budget, consider installing a wood floor. A cheaper option is laminate floor as it's durable and low maintenance. 
5. Refresh Your Home's Curb Appeal
Your rental property's curb appeal plays a major role in attracting residents and encouraging them to renew their lease and stay longer. So, overlooking the exterior look can prove costly for you.  Imagine yourself as a renter and drive or walk by your property. Would you find the home to be warm and welcoming? If not, the following are some things you could do to reinvigorate it:
Refresh the paint if it's peeling

Dress up the windows with shutters. These can come in maintenance-free materials, making them very low maintenance

Make sure the exterior lighting is adequate, especially in areas such as the backyard, front porch, landscape areas, and outside of the garage

Keep the landscaping simple, neat, and tidy
6. Consider Having an Open Floor Plan
If you have the budget, consider opening up the space As residents want bigger spaces, open floor plans are a hit with residents nowadays. An open floor plan is just as the name suggests – one or more large, open rooms that serve multiple functions, in a single living space. 
Having to knock down some walls, however, isn't a simple DIY project. So unless you have the experience under your belt, engage a home renovation professional. 
7. Invest in Proper Lighting

 
A properly lit home improves mood and creates a warm and bright ambiance. You can improve your home's lighting in a variety of ways, including:
Painting the home with neutral colors

Providing furniture with lighter colors

Placing mirrors near light sources

Deep cleaning the windows

Choosing curtains that are beige or gray

 
8. Fencing Off the Property
If your property doesn't have a fence around it, consider adding it. It's not only easy to install, but it's also one of the most sought-after features by families. Also, as a landlord, your resident's safety is your responsibility. And installing a fence can help boost it. 
9. Replace Dated Amenities
More and more people wish to live sustainably. If your home's appliances are dated, chances are they consume a lot of water and electricity. This will make attracting and retaining residents difficult. Choosing eco-friendly amenities, on the other hand, will not only reduce your property's energy bill but will also make your property stand out. 
The following are some of the amenities that residents find desirable: 
Air conditioning unit

Stainless steel appliances

In-unit laundry

Dishwasher
Summary
Making your property stand out should be at the top of your list of priorities when renting out a property. The right ones will not only make your property stand out but may also mean more rental income for you. Best of all, they'll keep your vacancies periods to a minimum. 
If you would like help managing your rental properties, contact the experts at Five Star Property Management today!